Filipino/Tagalog Wikipedia: Daniel Lorraine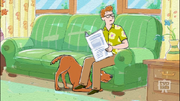 Daniel "Danny" Lorraine
is Helen's father, who works as a bus driver. When he was a child, his favorite superhero was The Green Gas Lamp. He can be a bit stern with his family but is also a bit of a jokester.
Personality
He seems to have an immature personality - an example of this is singing around the house.
Nationality
He hails from Winnipeg, Canada, and is birthday is September 12, 1975.
Appearance
Danny takes on many jobs, so his appearance may change depending on the job.
In other wikis